Innocence & Experience
By Stanzie Tooth
Xiaojing Yan's work hangs in an intermediary space between innocence and experience. While her work of the past eight years has dealt with her placement, or displacement, between an Eastern and Western existence, her latest exhibition is born from a greater point of impasse. Acting from the perspective of a child as well as a mother, Yan is reflecting on life as well as aging and all of the stages therein. Her new works are meditations on these themes, taking the form of sculpture, installation, drawings and video. The exhibition centers around two objects of importance: the scholar's stone and the lingzhi mushroom. These objects are the subject of folklore and superstition in China. Yan takes these symbols and reexamines them from her place as an immigrant in the Western world.
Working in both Toronto and Nanjing, Xiaojing Yan bridges the divergent cultures of Canada and China. A solo exhibition of recent work hinges on an arresting installation titled Cloud Cell. Cloud Cell is a hanging work made of fresh water pearls suspended in space by hundreds of clear filaments. Like a three dimensional pointalist painting, an image is formed by luminescent dots in space. This curvolinear form is inspired by Chinese garden stones, or scholar's stone. The scholar's stone is an object of reverence in China. Formed by the slow erosion of water, the scholar's stone is seen as a site for contemplation and a symbol of wisdom. The form of the installation also resembles a mushroom cloud, the aftermath of a nuclear explosion. Here, a duality is presented to the viewer. The installation is at once peaceful yet destructive, its form is created out of dense objects, yet is transparent and free floating. The ghost-like sentiment of the work is intentional. While the form is based in nostalgia, there is a looming sense of alarm and dangerous beauty in the work. Adding to the complexity of the piece, Cloud Cell was realized through a collaboration between Yan and Chinese soldiers, along with retired factory workers who aided in the meticulous task of hand-stringing over twelve thousand iridescent white pearls. The exhibition includes ink paintings and a video work informed by Cloud Cell, exemplifying the depth of Yan's philosophical engagement with this body of work.

Another focal point of the exhibition is a wall installation based on the ling zhi mushroom. In China, there is a myth that the ling zhi mushroom, when sought out by a devoted child, could bring a deceased parent back to life. In these tall tales, children would even perish in their attempts to save their loved ones. Xiaojing Yan's sculptures and drawings based on the mushroom stem from the artist reflecting on her aging parents and how the traditions of the parent-child relationship are challenged living half a world away. As a first generation immigrant separated from her roots geographically, culturally and linguistically, it has become even more important to Yan to create mementos to maintain a salient connection to these traditions. The artist has cast exquisite renderings of the mushroom in bronze, which ascend the wall like pathway. By fabricating the mushrooms out of metal it is as though she has made imperishable the link to her family and heritage. The sculptures feature deep grooves in the face of each mushroom, the form of which harkens to water ripples or the growth rings of trees. These indelible marks show the passage of time, a fossilization of experience.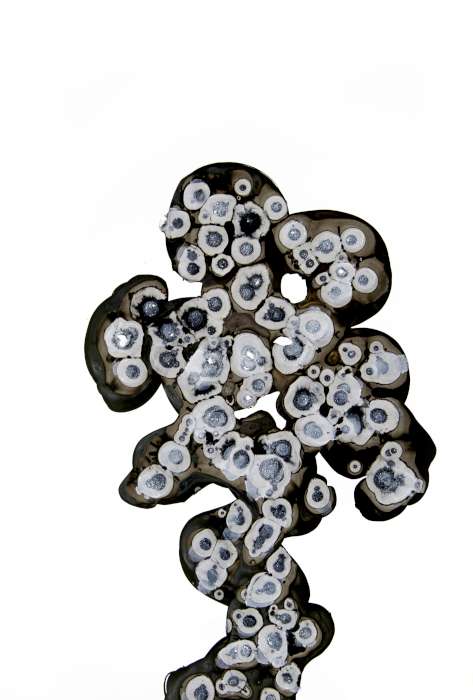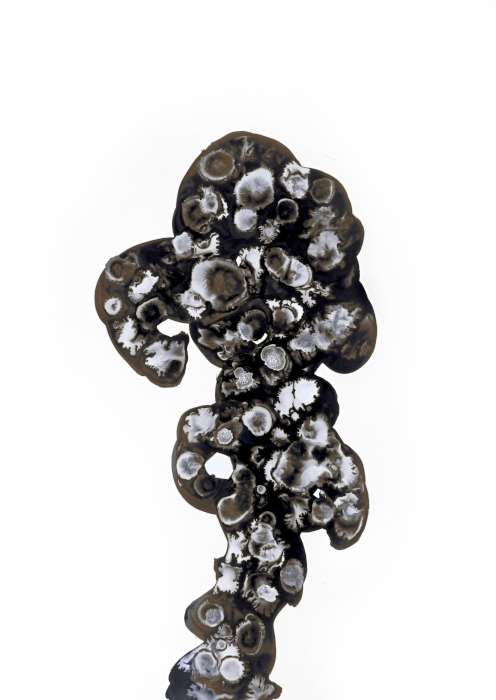 The overriding theme of Xiaojing Yan's Innocence & Experience is not singularly about the duality of life and death, but rather explores the cyclical nature of life by means of these organic and ritualistic totems. Xiaojing shows us that even in the temporal and passing moments in nature, there is a enduring patterning that connects everything. We live on through the cycle, through memory and by making tradition our own. Her contemporary takes on traditional Chinese forms speaks not only of her history, but also of creating a new hybrid culture as a legacy for generations to come.
Read exhibition catalogue here.